Bob Renwick & Understanding Hamlet
This was my father-in-law, and I was honored by the family to write up the obituary:
In Loving Memory Of Robert James Renwick

RENWICK, ROBERT JAMES "To die, to sleep — To sleep, perchance to dream," says Hamlet, in Act III, Scene I. Chances are if you knew Mr. Renwick as friend, family, or as one of your teachers, you knew his love of Shakespeare. The curtain closed on the life of Bob Renwick on Wednesday, March 2, 2022, at Southlake Regional Health Centre, leaving a void, and many thinking, "Good night, sweet prince / And flights of angels sing thee to thy rest." The smiling, damned villain was cancer. Education is the theme that ran through his extended play, which began on November 25, 1938, in Regina, Saskatchewan. Born to Fred and Bernice Renwick, and older brother to Alec and Gordon, Bob attended McMaster University for his BA in English Literature, and then the University of Toronto for his Master's, where his thesis was on tragic themes in Moby Dick. There was a brief flirtation with professional football for the towering young man, but his destiny was to share knowledge. He taught in numerous Ontario cities: Harrow, Blenheim, Thornhill, Newmarket, Unionville, and served as a registrar at the University of Toronto, the University of Guelph, and Lambton College. Bob also enjoyed coaching high school football, serving as a guidance counsellor, and, upon retirement, he got a second BA in Psychology from York University and a second Master's, in Education, with a specialty in psychology to prepare to open his Limited Counselling Practice. Along the way, Bob raised three children with Cathy — Meredith (Greg), Justin (Roxanne) and Lindsay (Derek) — and, in a worthy second act, was a stepfather to Shane (Katie) and spouse to Aldene Booth. There was never doubt of his love for his grandchildren Quinn, Daphne, Thatcher and Finley. When not eating ice cream, loudly chewing potato chips, singing off-key, playing squash or skiing, Bob would work on his own writing, which culminated with Understanding Hamlet: A Study Guide, published in 2015. Cremation has taken place. Visitation will be held at Taylor Funeral Home, Newmarket, 905-898-2100, on Saturday, March 12, 2022 from 12:00 p.m. – 1:00 p.m. with Funeral Service to follow at 1:00 p.m. Memorial donations can be made to the Southlake Foundation or Cancer Society of Canada.
---
Upon his passing, I discovered a number of poems that Bob had written … and then some more … and even one from a 1961 McMaster University publication, so, with the help of my son/Bob's grandson, Quinn, we put together Euphoric Descent: The collected poems of Robert Renwick. Order it at Amazon.com or Amazon.ca.
---
At one point, Bob had a WordPress page for his book, Understanding Hamlet: A Study Guide, and I have reproduced what he had below, as of April 2015 — he only made two posts. He did a little bit more at his Facebook page (which still exists).
---

Putting together the final product
The editorial team is currently proofing the galley, the finalized version of the layout and text of Understanding Hamlet.
One of the editors, Hufsa Tahir, made coffee her best friend as she spent countless hours putting together the final pdf of the book's manuscript.
This part of the production process took a lot of concentration and a careful eye to edit onscreen alongside a physical copy of the manuscript. Luckily, at the last meeting, any final copy errors were pointed out and highlighted to ensure they would not be missed and somehow get through to the final product.
Beyond that, this part of the process took a certain amount of expertise to code the manuscript for the e-reader version of the book. The author and the other two editors appreciate Hufsa's knowledge and skill in this area.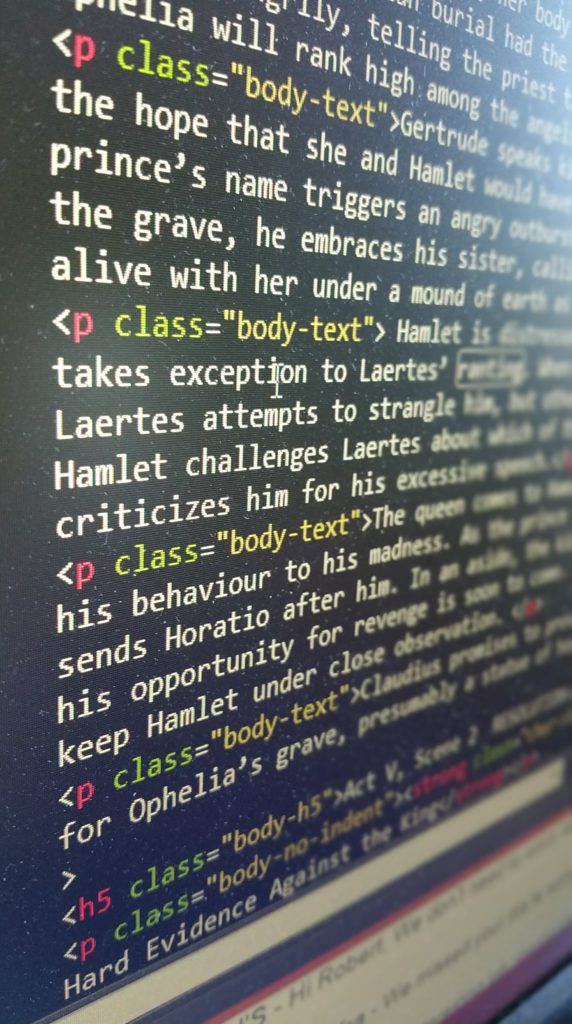 Now it is time for the editors to look over the final pdf file and make sure there are no errors. Since the editorial process has been so thorough, we are all hoping for minimal issues. This process should be completed within the week!
---
Production is underway!
The author and editors of Understanding Hamlet are working hard to publish the book by our production deadline: May 12, 2015.
Over the past year, the small team has been conversing and meeting in between the editorial and production processes to ensure that all is running smoothly. So far, everything seems to be going according to plan.
Our most recent meeting, which took place on April 19, was very exciting because we got to take a look at a preview of the e-book version of Understanding Hamlet. It was really great to be able to see a physical representation of our work.
We are looking forward to meeting again in May, a few days before production to continue to monitor the process.
---
Hi! I'm Robert Renwick, more commonly known as Bob. Welcome to my Understanding Hamlet blog.
I am about to publish a new study guide for what is arguably Shakespeare's greatest play. Among other things, the guide contains scene-by-scene summaries with commentary, and four original essays on Hamlet, written by me.
I have taught the play many times during a 27-year career as a teacher in Ontario secondary schools. After graduating from McMaster University with a B.A. in 1960, I enrolled in graduate studies at the University of Toronto, obtaining an M.A. in English language and literature. Early in my career, I served briefly as an admissions officer at the U of T, and later as Associate Registrar, Admissions at the University of Guelph, and Registrar and Director of Student Services at Lambton College in Sarnia. I left administrative work behind in 1971 when I was hired to teach English at a secondary school in Sarnia. From there I moved on to schools in York Region, Ontario, where I served as Department Head of English before becoming a school counselor during my final 11 years in teaching. After retiring in 1997, I operated a practice in counseling and psychotherapy for 15 years.
I decided to write Understanding Hamlet for a number of reasons, the first of which was to clarify my own thinking about the play by looking at it intensively and writing about it. Another reason was to provide students with essays that could serve as models for their own writing about Hamlet. A third was for the personal satisfaction of publishing a book, something many people think about doing, but relatively few actually do.
I put a great deal of time and effort over several years in writing Understanding Hamlet. I am very grateful for the work of my editorial team—Carina Samuels, Ashley Glovasky, and Hufsa Tahir—who taught me much about the production side of creating a book. I also owe a debt of gratitude to Professor Peter Paolucci of the Department of English at Calumet College, York University, Toronto for referring the editors to me and being supportive during the process of producing Understanding Hamlet.
Publication of UH should occur mid-May. More on that after it happens. Meantime, I would welcome responses.
Cheers,
Bob