BLUE LINES, GOAL LINES & BOTTOM LINES
By Greg Oliver
​​Returning to the archives of collector Allan Stitt, documents explore everything from early hockey to the arrival of the WHA, including the greats of the game–Orr, Gretzky, Richard, Howe.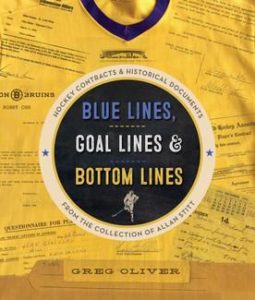 IN THE TORONTO STAR
An excerpt from Blue Lines, Goal Lines & Bottom Lines ran in the Saturday, July 30, 2016 edition of the Toronto Star — Canada's largest circulation newspaper. They chose to run the personal information sheet on Jean Beliveau.
THE HOCKEY NEWS WEIGHS IN
Sal Barry reviewed Blue Lines, Goal Lines & Bottom Lines in the August 15, 2016 issue of The Hockey News. It's a short review, and Barry called it "a unique look at the hockey history via hundreds of pieces of paperwork," singling out some of his favourites of the "invaluable documents," like Wayne Gretzky's grades while at school in Indianapolis, and Glen Sather and Mike Keenan sniping over an owed waiver fee.​
EARLY HYPE FOR 'BLUE LINES'
ECW Press sent out the Advanced Reading Copy of Blue Lines, Goal Lines & Bottom Lines in June 2016 and the first review is in, from "The Guy Who Reviews Sports Books" blog. Some of the highlights:
– "… no matter one's preference, there is certain to be something that will make the reader happy."
– "Every hockey fan should seriously consider adding this book to his or her library. The documents are wonderful, the accompanying stories interesting and full of information, and it is one that can be shared with all hockey fans. "
Click here for the full review.