WHO'S THE MAN? BILLY VAN! is now available for sale!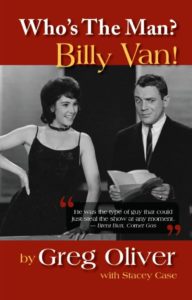 The book is $25 and is shipped from Billy's hometown of Toronto, Ontario, Canada. The shipping is factored in with PayPal below ($5 in Canada, $10 to USA). At the moment, we cannot handle international orders. 
It is 336 pages, with tons of photos of Billy Van through the years! (He is even wearing clothes in some of them! Note, if you are a vehement anti-smoker, you won't like these vintage pics!)
(An Amazon version & Kindle / ebook will be forthcoming at some point.)
It's available for pick-up in Toronto or Cornwall, Ontario, and we can accept etransfers ($25) on those. For Toronto, email Greg @ goliver845@gmail.com and for Cornwall, email Stacey @ caseystace@yahoo.ca. And, if you want to be really old-fashioned, and pay with a cheque, email Greg at the address above.
---
We're starting to get Who's The Man? Billy Van! out to a few retail outlets. Given the pandemic, be sure to call or email to arrange your visit / pick-up:
HAMILTON: The City and The City Books; 289 389 2477 (Website)
HAMILTON: Crash Landing Music Store; 905-548-0039 (Facebook)
---
WHY YOU NEED WHO'S THE MAN? BILLY VAN!
Billy Van was one of the greatest entertainers ever produced in Canada, and his story has never been told in its entirety until this biography, Who's The Man? Billy Van!
He could sing, and did with The Four Grads, The Crescendos, The Billy Van Four, and The Billy Van Singers.
He could dance, though not well.
He could act, starring in CBC dramas such as Ladies Man and Wife and Man.
But most importantly, he could make people laugh, whether you knew it was him or not.
Billy Van hammed it up on the pioneering Nightcap and the top-rated CBS hit The Sonny & Cher Comedy Hour, acted out charades for a decade on Party Game, and was the befuddled computer newbie on Bites & Bytes.
The Hilarious House of Frightenstein is considered by many his masterwork, as he disappears into character after character—but that was only nine months of a career that went from the 1950s right up until his death in 2003.
So intensely private, his own family first learned the details of Van's life during the process of working on Who's The Man? Billy Van!
Written by award-winning author Greg Oliver, and ably assisted and cheered on by Billy Van über-fan Stacey Case, this biography, bringing together his family, colleagues, and admirers, gives a Canadian legend his due.
---
CLICK HERE FOR THE WHO'S THE MAN? BILLY VAN! MEDIA PAGE
---
WHO'S IN THE BOOK?
The list of interviews for the book, some conducted years ago, include: Dinah Christie, Alan Hamel, Allan Blye, "The Unknown Comic" Murray Langston, Garry Blye, John Byner, Luba Goy, Sheila McCarthy, Jayne Eastwood, Raffi Mauro, Guido Basso, Brent Butt, Perry Rosemond, Paul Soles, Saul Ilson, Pam Hyatt, Stuart Beecroft, Vern Kennedy, Barrie Baldaro, Lynne Griffin, Dixie Seatle, Grant Cowan, Monica Parker, Greig Dymond, Jack Kuper, David Eisner, David Stansfield and Denise Boiteau, Stuart Gillard, Phil Hahn, Patricia Collins, Tommy Ambrose, Don Ferguson, Hart Pomerantz, CHCH employees, television writers, and others who worked on Frightenstein, and family members.