SO, PRO WRESTLING, EH? THIS IS THE RIGHT PLACE!
The Pro Wrestling bug bit me in 1985, as Hulkamania ran wild all over me.
I started The Canadian Wrestling Report in August 1985, and it ran for five years. During that time, I wrote for a couple of wrestling magazines, attended countless shows, and made some friends that I have to this day.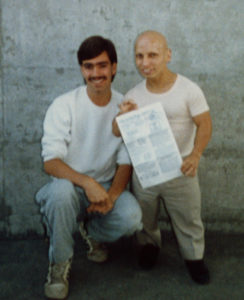 After attending Ryerson University to study journalism, I began working at the Toronto Sun newspaper … and existed for about five years with a relatively wrestling-light life.
Then came the Monday Night Wars, which coincided with the Internet growing exponentially, and I was caught up in it all again, this time with the SlamWrestling.net website, initially a part of the Sun Media website, Canoe (CANadian Online Explorer — get it?), where I was a Day One employee.
SLAM! Wrestling grew and grew, to the point where I was asked about writing a book. The first one, The Pro Wrestling Hall of Fame: The Canadians, came out in March 2003, and the most recent, the seventh, The Pro Wrestling Hall of Fame: The Storytellers, came out in August 2019.
In between have been so many wonderful experiences, sad moments and heartache, friendships, and entertainment.
So, where do you go from here?