Hockey's Greatest Puckstoppers, Acrobats and Flakes
​By Greg Oliver & Richard Kamchen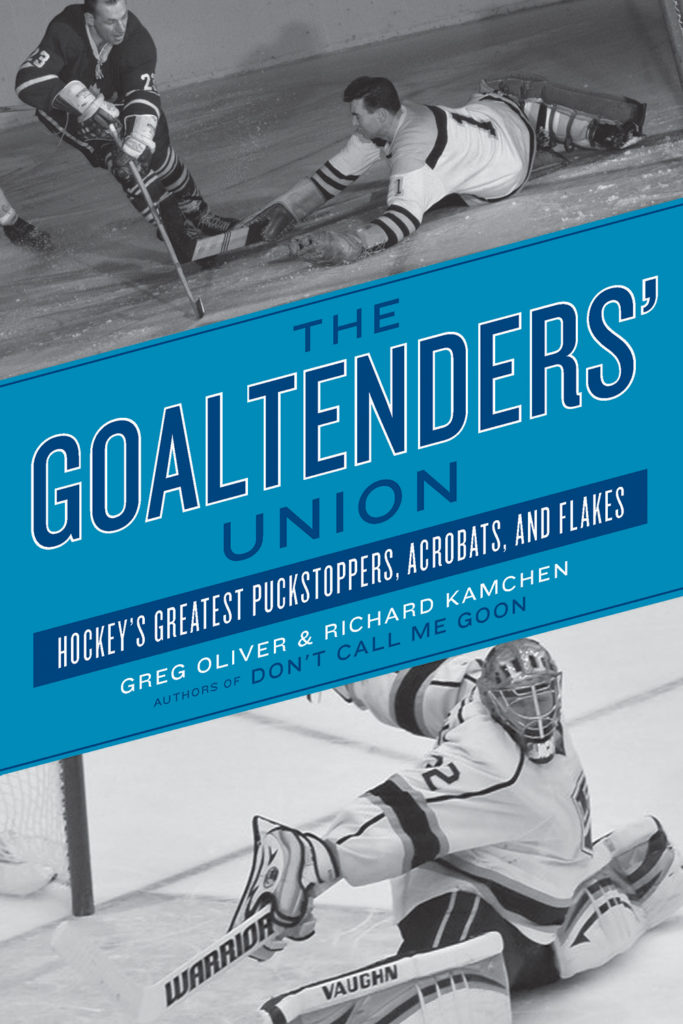 In hockey, goalies have always been a contradiction — solitary men in a team game, the last line of defence and the stalwarts expected to save the day after any and every miscue and collapse from his teammates. It's no wonder that anyone who played the position has had his sanity questioned; yet some of the biggest innovations in the game have come from its puckstoppers. In The Goaltenders' Union, Greg Oliver and Richard Kamchen talk to more than 60 keepers of yesterday and today, finding common threads to their stories, and in dozens of interviews about them with other coaches and players. From Gilles "Gratoony the Loony" Gratton, who refused to play because the moon was out of alignment with Jupiter, to Jonathan Quick, the athletically gifted master keeper of today's game, the book is an entertaining and enlightening peek behind the mask.
REVIEWS
On thehockeywriters.com:
"Exploring other fun sides to goaltenders, the authors also delve into lighter narratives of hockey goalies. Writing about fathers and sons who were able to man the crease professionally as well as netminders that made a successful transition from the ice to the broadcast booth, Oliver and Kamchen make their book flow fluidly as there are no dry narratives to be found in their publication."
Publisher's Weekly:
"The authors provide an entertaining account of goaltender personalities, the mental toughness required, and valuable insight into the careers of the best before, during and after their stints in the National Hockey League. Along the way, readers will learn about the influence television had on the introduction of the two-goalie system and many other interesting facts."
Winnipeg Free Press:
"Hockey fans will find The Goaltenders' Union an interesting read for its tales of old-time hockey as well as its description of how the most dangerous position in sports has evolved — from the days when goalies weren't allowed to leave their feet to make a save to the present, where they are covered in body armour and as likely to make a blind save from their back as they are to snag a slapshot from the point with their trapper."
Mick Kern, Sirius XM's The War Room:
​"I'll read anything about goaltenders, particularly the men who have donned the tools of ignorance in the National Hockey League. Oliver and Kamchen dive headfirst into the scrum around the crease, and emerge with an enjoyable book touching upon all aspects of guarding the net. Books such as these are best when they allow the men in the trenches to sit back, open a few cold ones, and tell some tall tales. And they are in here, old and new, familiar and revelatory tales."
---
BUY IT NOW: Amazon.com * Amazon.ca * Email author about a signed copy
---
WITH THE GOALIES
A tweet from Brent Johnson: @JohnnyGoalie12 Looking for a great read about the unrivaled fellowship of goalies. Pick up a copy this book by @gregmep & R Kamchen.
---
PHOTOS