HOORAY FOR HOCKEY!
Growing up, I didn't read fiction. Instead, I devoured non-fiction, especially about sports and movie monsters. (Though, I suppose comics, both comic books and collections of newspaper strips count as fiction if we're being technical.)
So, imagine how surreal it is to consider someone like Brian McFarlane a friend and that he considers me a peer in the writing business.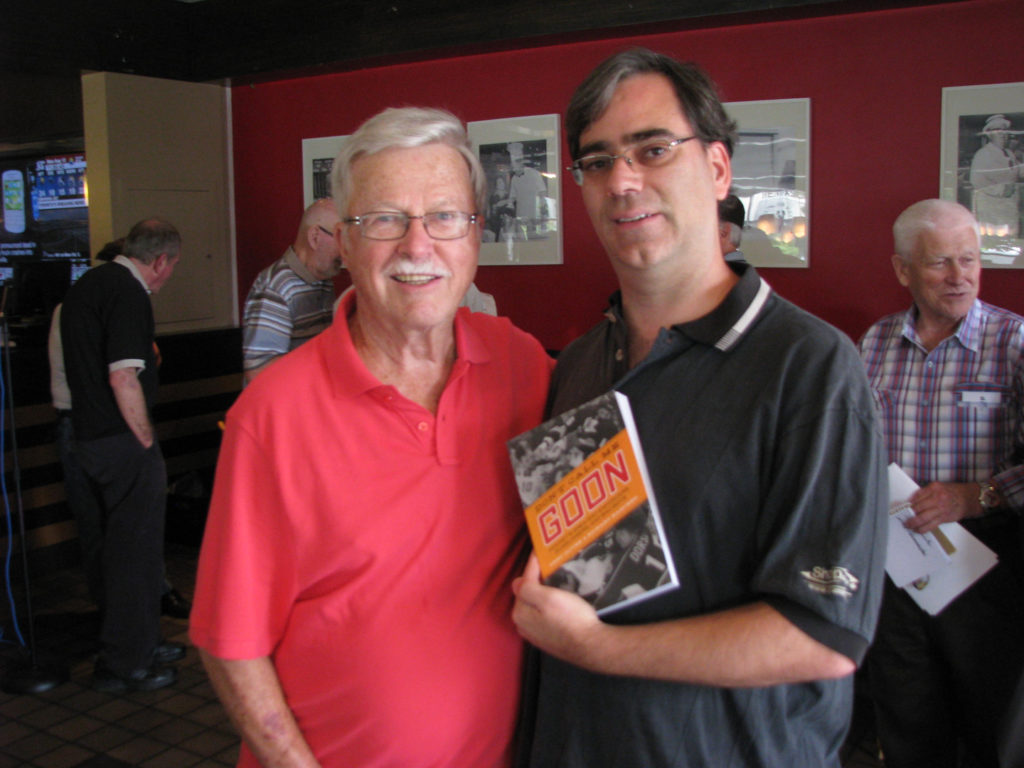 Yes, I have to pinch myself often.
In short, I got a little tired about writing about professional wrestling, so the editor and ECW Press and I sat at lunch bouncing ideas around, and the result was Don't Call Me Goon: Hockey's Greatest Enforcers, Gunslingers, and Bad Boys, which came out in September 2013, co-written with Richard Kamchen (who I knew through my SlamWrestling.net website). Fighting in the ring to fighting on the ice was not that much of a stretch. From there, it's been a bit of a whirlwind. I've written hockey stories for The Society for International Hockey Research (SIHR), The Hockey News, and had six books on hockey published, including the odd angel/devil combination in 2017, with an extensive biography on Father David Bauer, a priest who was involved in the Canadian National Hockey program, and Gilles "Gratoony the Loony" Gratton, a crazy, no holds barred autobiography of one of the most unique characters ever to lace on skates.
Grab your own skates and stick, and hit the ice to check out:​
---
TAKING A SWING AT BASEBALL!
Given the number of baseball games that I have been to and the number of baseball books, writing a baseball book makes some sense, eh?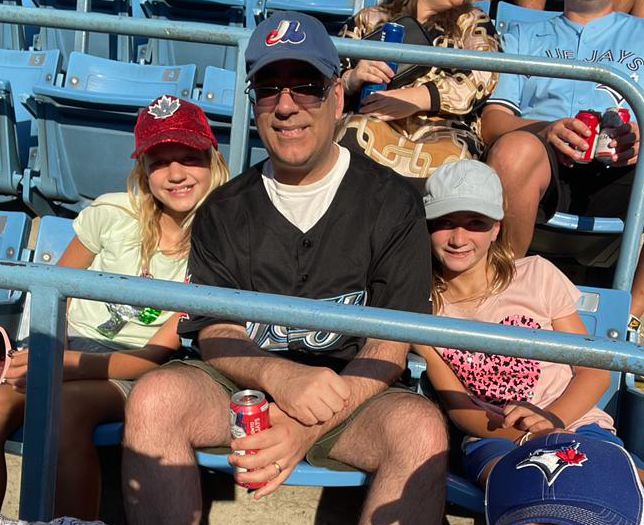 Working with John Arezzi on Mat Memories: My Wild Life in Pro Wrestling, Country Music and with the Mets was the start, and I learned a lot about minor league baseball through him. One of the forewords for the book — there were three, to cover his three distinct careers — was former Toronto Blue Jays manager John Gibbons. I joked at the time with Arezzi after talking with Gibby that I should do Gibby's book next. Well, it wasn't next, but it happened, through John A.
Here's more on Gibby: Tales of a Baseball Lifer, which came out in Spring 2023 from ECW Press.
---
AN AWARD FROM MY PEERS
In May 2021, the Society for International Hockey Research held an online meeting, and presented its annual awards. To my surprise, I was presented with one by Fred Addis, the current president of SIHR. Here is the citation:
Bill Fitsell President's Award
Each year, the sitting President of SIHR selects a member of our organization who has demonstrated excellence, dedication and passion to our organization.
I'm happy to announce this year's winner is Greg Oliver. Many of you will know Greg through his regular online column "Two Minutes for Reading So Good." I know for me it's an absolute must read. His ability to get behind the story and offer authors the opportunity to showcase their work, in their own words, is no small accomplishment. Just have a look at his most recent column dealing with one woman's experiences in the world of Women's Hockey, and you'll know what I mean. Many of you know that Greg is a talented, multi-sport author, too. In addition to his books and writing on professional wrestling, he has a very healthy hockey writing portfolio. His hockey publishing credits include The Goaltenders' Union, Father Bauer and the Great Experiment, and Written in Blue and White. He's been a real stalwart at SIHR meetings and a valuable resource. For his excellence, dedication and passion in service to our organization and our membership, congratulations to Greg Oliver, winner of the 2021, J.W. (Bill) Fitsell President's Award.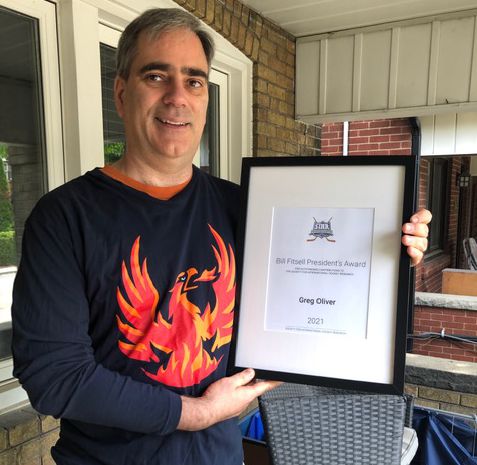 ---
HOCKEY PHOTOS