A writer, editor, producer, and stay-at-home dad, GREG OLIVER has had eight books about professional wrestling published. He runs the SlamWrestling.net website.
Greg has also written six books on hockey: Gratoony the Loony, the autobiography of 1970s NHL and WHA goalie Gilles Gratton; Father Bauer and the Great Experiment: The Genesis of Canadian Olympic Hockey; Blue Lines, Goal Lines & Bottom Lines; Don't Call Me Goon (with Richard Kamchen); The Goaltenders' Union (with Richard Kamchen); Written in Blue & White, as well as two books for children: Duck With The Puck (with his son Quinn) and Santa's Day Job.
His biography of Canadian actor Billy Van, Who's The Man? Billy Van!, arrived in December 2020 and needs some love, as it's self-published!
In the spring of 2023, the memoirs of former Toronto Blue Jays manager John Gibbons (Gibby: Tales of a Baseball Lifer), and pro wrestler turned monster truck driver Madusa Miceli / Alundra Blayze (The Woman Who Would Be King: The MADUSA Story) hit shelves.
He has two books on the go, which have not been publicly announced yet.
His freelance work has appeared everywhere from The Hockey News, to SI.com to The Globe & Mail, to Scouting Life magazine. A member of the Society for International Hockey Research, Greg lives in Toronto, Ontario, with his wife and son — both fellow authors.
Greg can be emailed at goliver845@gmail.com and you can also find me on social media: Twitter * Facebook * Instagram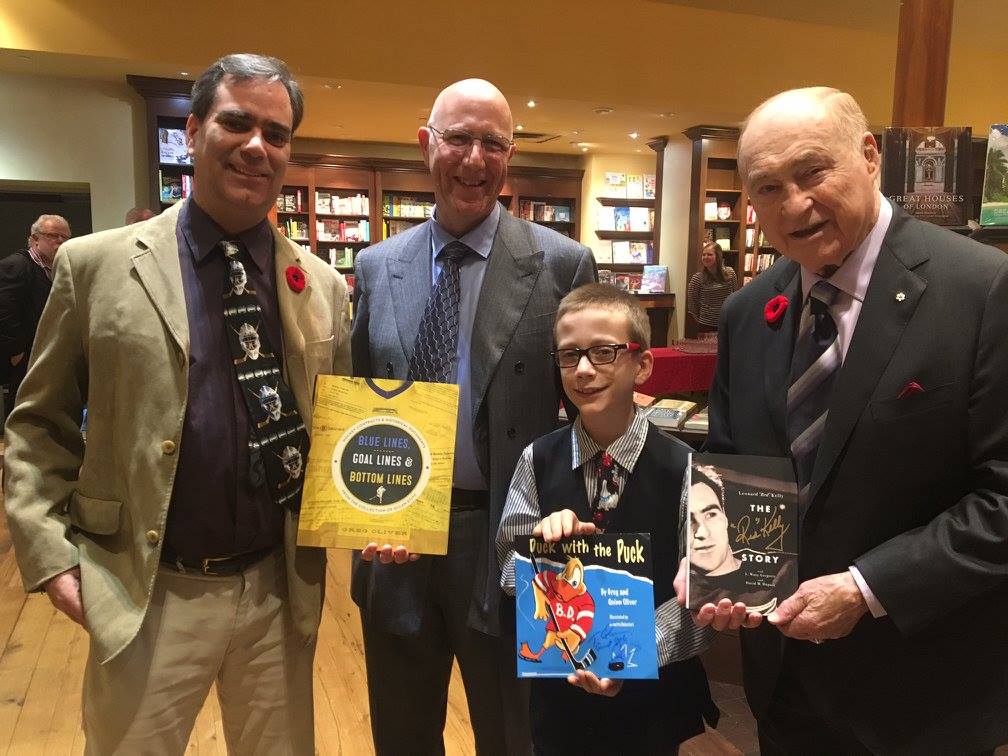 FAMILY
QUINN OLIVER is in Grade 11, in Toronto. Besides writing, he enjoys football, baseball, and video games.
MEREDITH RENWICK, is Greg's wife and Quinn's mom; she wrote two books too — the most noteworthy here being Bang Your Head: The Real Story of The Missing Link, written with Dewey Robertson, which is still in print. Click here for more details on the book.
ROBERT RENWICK is the late father-in-law of Greg, and he too was a writer, publishing Understanding Hamlet: A Study Guide in 2015. Here are more details about Understanding Hamlet and about Bob. Posthumously, Greg collected up Bob's for Euphoric Descent: The collected poems of Robert Renwick.
FRIENDS
PERSONAL LINKS