In 2003, my first book came out, The Pro Wrestling Hall of Fame: The Canadians. How did it come about? I was running SLAM! Wrestling, and Michael Holmes, an editor at ECW Press, was a fan. He called one day and asked me what I wanted to write about. I said Canadian wrestling, and it grew from there. Michael has been a huge supporter of myself, my work, and a trusted friend. Jacques Rougeau Jr. wrote the foreword, and we even drew up a rudimentary graphic to explain his wrestling ties.
There was no plan about more books in the series, and then, out of the blue, Steve Johnson got in touch. He'd gotten a copy of The Pro Wrestling Hall of Fame: The Canadians, liked it and wondered what I had planned next. It turned out that Steve had grown up on wrestling out of Buffalo, was almost a decade than I was, but, most importantly, was a veteran, award-winning journalist. When we decided to work together on what ended up being The Pro Wrestling Hall of Fame: The Tag Teams, I can say that he made me a better writer, researcher, and more determined to make that next call.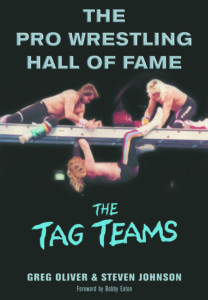 The Pro Wrestling Hall of Fame: The Tag Teams came out in 2005, and the best compliment that maybe I've ever gotten was when Bobby "The Brain" Heenan — probably the greatest pro wrestling manager ever — said he kept his copy in his bathroom. Steve was the conduit to having Bobby Eaton write the foreword, and that's Eaton hanging under the scaffold during a Midnight Express versus Rock 'n' Roll Express scaffold match. Note, you can tell if you have a first printing very easily, as the black ink ran over our names on the cover, so we're not visible.
The Pro Wrestling Hall of Fame: The Heels arrived in 2007 — somehow I'd always envisioned Bulldog Brower and his bulging eyes on a cover of one of my books (he's mauling Carlos Belafonte, later known as Carlos Colon). It's that much better than the previous books, if only because we'd set a high standard for our work, and had accumulated so much material. Rick Martel wrote a great foreword talking about always wanting to be a villain since it looked like they were having more fun!
In October 2012, The Pro Wrestling Hall of Fame: Heroes & Icons hit the shelves. Steve and Greg added respected wrestling journalist Mike Mooneyham to the gang, helping cover even more names. It's a huge book, biggest of the bunch, and, for some reason, it didn't sell as well. Do people just like bad guys better? It's an amazing collection of writing and photos. JJ Dillon wrote the foreword for the book, and has been a great supporter of our work through the years.
The longest wait for a Pro Wrestling Hall of Fame was seven years, as that was when Steve and Greg finally had The Pro Wrestling Hall of Fame: The Storytellers (From the Terrible Turk to Twitter) published in August 2019. It's epic in every sense, with so many stories covering all kinds of things we never worked into the previous four books. In a way, it's a spillover book, since we had all kinds of threads we never worked on earlier … but there were plenty of new discoveries where we went down a rabbit hole and just came up with something else!