The Wild, Unpredictable Life of Gilles Gratton
By Gilles Gratton and Greg Oliver
Gilles Gratton was not your every day professional goaltender. He begged off from assignments based on the planets not being properly aligned. He skated naked at practice. He fought with coaches and management, speaking his mind to his detriment. Sex, drugs and rock 'n' roll ruled his life, not stopping pucks. Truthfully, he just didn't want to be there. What he really wanted to be was a Tibetan monk, and so he quit hockey to seek enlightenment. Now, in his autobiography, Gratton teams with author Greg Oliver to tell his story, from his early days in Montreal, where his brother Norm Gratton became an NHL player too, through the OHA's Oshawa Generals, the Ottawa Nationals and Toronto Toros in the WHA, and the St. Louis Blues and New York Rangers in the NHL.
---
BUY IT NOW: Amazon.com * Amazon.ca * Email author about a signed copy
---
GRATTON BESTS DRYDEN!
Sal Barry, of Sports Collectors Digest, rated Gratoony the Loony the top hockey book from the 2017-18 season … with Ken Dryden's great Game Change at fifth, perhaps the first time that Gratton ever beat Dryden at anything except drinking (and streaking, yoga, swearing…). Read the full story here.
---
SO MANY REVIEWS
My new book, Gratoony the Loony, written with Gilles Gratton, has already had a number of reviews, from publications big to small. Publishers Weekly, an influential trade magazine, called it a "quirky memoir" and "honest, open, and fun." My favourite sentence might be from the Winnipeg Free Press review by Sheldon Birnie: "Those with an interest in the wilder and woollier days of professional hockey's history will surely enjoy Gratton's conversational (and, at times, rather crude) tone and delight (or recoil in horror) at his antics, both on and off the ice." So read it if you dare!
---
BOOK LAUNCH AND MEDIA ROUNDS
Boy did we have fun at the book launch for Gratoony the Loony, at The Sport Gallery in Toronto's Distillery District on Thursday, October 12, 2017, and the subsequent media day on Friday.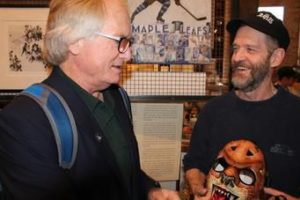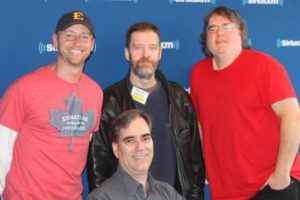 ---
GILLES & GREG SHOW
Gilles and Greg have a chat at the fall meeting of the Society for International Hockey Research in Montreal in November 2017.
---
GILLES LAUNCHES HIS WEBSITE
To learn more about Gilles Gratton, and to order an autographed copy of Gratoony the Loony, be sure to visit gillesgratton.com!
---
FIRST REVIEWS OF GRATOONY THE LOONY
There's a first time for everything, and the first review of Gratoony the Loony appeared on the blog, "The Guy Who Reviews Sports Books." And the strange thing is he liked it, rating it 5/5!
This excerpt was nice to read: "The writing is very good for a sports memoir, something that is typical for Oliver. His contribution to the book can be found throughout the memoir and is the perfect fit for Gratton's carefree discussion of his hockey career, his escape to practice transcendental meditation and his relationship with his parents, wives and children. This book was as fun to read as it was to watch Gratton play during his career. Fans of the sport during the 1970's will want to add this one to their libraries."
There are also some reviews appearing on the Goodreads.com website.
---
WE HAVE A COVER!
It's getting towards the end of January, and ECW Press just finalized the cover for Gratoony the Loony, which will be out in the fall of 2017. Apparently being in a New York Rangers jersey will help sales; makes sense since that was not only the team he became most notorious playing for, but it's also where he debuted his iconic lion mask.