Getting publicity for a self-published book, like Who's The Man? Billy Van! is a constant battle. Fortunately, Stacey Case and Greg Oliver have made plenty of contacts through the years, so that helped a lot with the media rounds. We're always open to more too — email Greg at goliver845@gmail.com.
---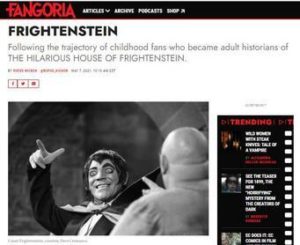 FANGORIA TAKES A BITE!
The biggest name in horror magazines, Fangoria, did up a story about the longevity of The Hilarious House of Frightenstein and the book, Who's The Man? Billy Van! Check it out (but don't be scared): Canadian Monster Kids Return To Castle FRIGHTENSTEIN
---
RETURNING HOME TO CHCH
CHCH in Hamilton, Ontario, was where Billy Van goofed around for 10 years on Party Game, and where the 130 episodes of The Hilarious House of Frightenstein were taped in nine months. To mark #IReadCanadianDay, February 17, 2021, Greg Oliver was a guest on CHCH's Morning Live with host Bob Cowan. 
---
HOLY HAMILTON!
The Hamilton Spectator's Graham Rockingham wrote up a pretty sweet piece about the book, Who's The Man? Billy Van! which ran online on January 20, 2021, and in print on January 21, 2021. Here's a link to the online version and at right is how it looks on the front page of its "Go" section.
---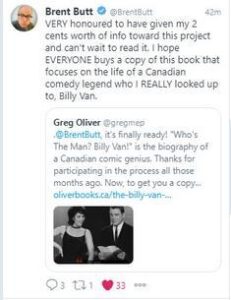 TWEETS, WE LOVE TWEETS
Billy Van didn't live long enough to see Twitter come along, and, we'll take a wild guess and say that he probably wouldn't have liked it much. But we do! It's a great way to promote a product and engage with fans, readers … and those who were interviewed in the book. We'll repost the best ones here.
---
ONE HAMILTON INTERVIEW = NATIONAL STORY
On Jan. 6, 2021, Greg Oliver guested on Scott Thompson's CHML 900 radio show (just before the U.S. Capitol was overrun). Since it's a part of a much bigger media company, there's a national story on the book at GlobalNews.ca. 
---
MEDIA APPEARANCES, MENTIONS, REVIEWS
Here are some other media mentions, though there isn't always a link to go back and here them:
Jan. 19, 2021 – Canada Now on SiriusXM with host Jeff Sammut (a fun chat with some good questions). You can listen to it here, on YouTube.
Jan. 20, 2021 – Sauga 960 AM (in Mississauga, ON) with Mike Richards and Dave Bastl (don't ask about the third nipple comment)
Jan. 25, 2021 – Hanging out with Kingdom James / Anthony Ruttgaizer on his Handsome Genius Club podcast.
Jan. 31, 2021 – Gallantski and Friends is a relatively new podcast, but Joe asked good questions.
Feb. 5, 2021 – COOL STORY with David J. MacNeil turned the tables, as I first did an interview with David back in 2003 about his Bad Dog character on CBC.
​Mar. 21, 2021 – Newstalk1010 host Jason Agnew brought Greg on to talk about the Billy Van book.
​Apr. 28, 2021 – I appeared with Chris Maloney on CWN Interview.
May 19, 2021 – The podcast name is appropriate, and in my appearance on Transatlantic History Ramblings we did jump around a lot!
Bill Brioux, who is a veteran TV writer based out of Toronto, reviewed Who's The Man? Billy Van! on his website, Brioux.TV.
​Lizzie Violet (a Toronto "Writer, spoken word performer, horror know-it-all") wrote about the book and Billy in a blog post.
---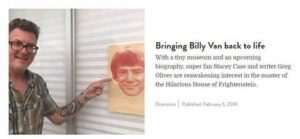 EARLY HYPE FOR BILLY VAN BOOK
Colin Burrowes at Mohawk College's SPOKE publication talked with both Stacey Case and Greg Oliver about the Billy Van Museum in Hamilton, Ontario, and the upcoming book on Billy Van's life. Check out the story here, which ran Feb. 5, 2019.