Hockey's Greatest Enforcers, Gunslingers, and Bad Boys
By Greg Oliver & Richard Kamchen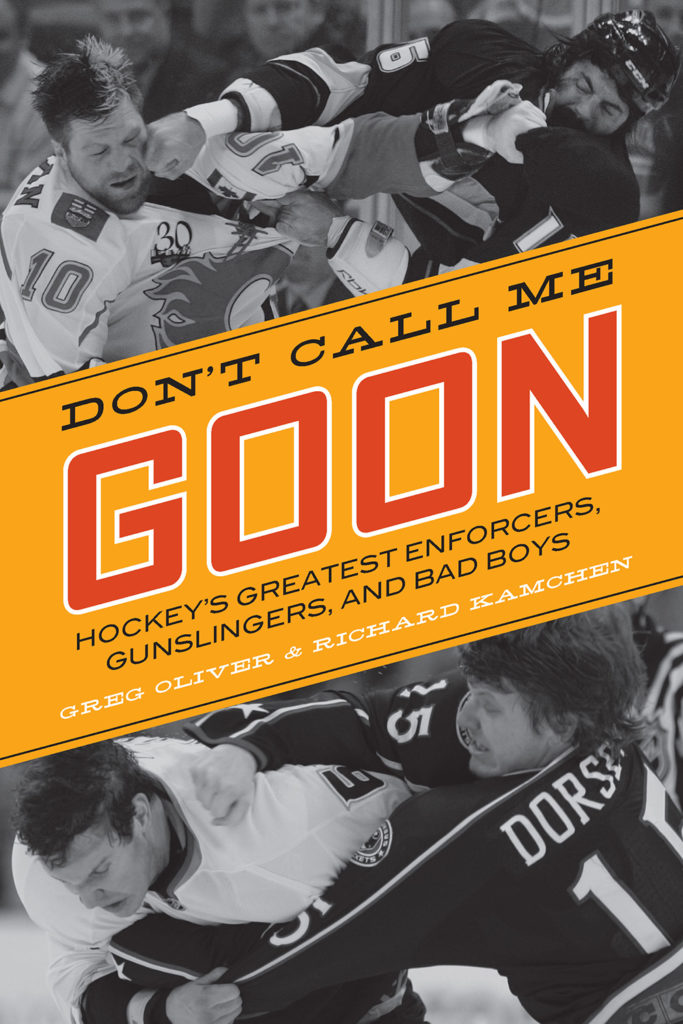 REVIEWS​
"Some of the anecdotes are funny; others, like the beating Wensink administered, not so much. But hockey's tough guys are part of the sport's history, and the authors tell it well."
"The best part about the book is all of the first-hand accounts the authors have collected in what must have been hours and hours of interviews. Who better to talk about a hockey tough guy than another tough guy who took a beat down from him only to do it again the next time they meet?"
​"I usually am pretty hard on books that randomly select various players to fulfill the book's need, but where Don't Call Me Goon succeeds is in speaking about the players with other players. The stories and comments from the players in the book about the tough guys profiled really show you the kind of respect and fear these men demanded when they laced up their skates. Over the book's 280 pages, there are a pile of great stories, some excellent quotes from former NHL players, and some excellent research done by the authors in putting these enforcers into a new light."
​"Oliver and Kamchen clearly know their hockey, and have went to great lengths to cover everyone they could possibly cover in the book. Tie Domi, Aaron Asham and Dave Semenko also make the list to no surprise. There are then a few bonus chapters to mix things up, like When Goalies Fight, or Hockey Movie Mayhem."
dirtydangle.com
"… the book doesn't disappoint in celebrating the role of the hockey enforcer. Through numerous interviews and extensive research, Don't Call Me Goon delivers in sharing the controversial subject of fighting in hockey. … Overall, this is a fantastic read with some great insight into hockey's most controversial role."
"Having the enforcers talk about each other and also hearing from their opponents add up to an interesting read."
"Something no one has considered: If fighters are an endangered species, where will hockey's great book subjects and quote machines of the future come from?"
​"… the authors serve up plenty of fascinating anecdotes and remind us that, despite their savage pedigrees, there's more to these men than the armored warriors we see brutalizing each other on the ice."
​London Free Press
"​A new book offers a look at life away from the penalty box for NHL heavyweights past and present, giving a short glimpse into the lives of the only professional punchers outside the boxing ring. The book — Don't Call Me Goon — isn't simply a rehash of old statistics and newspaper articles. Authors Greg Oliver and Richard Kamchen have done original interviews with players, adding live quotes and context to their work."
---
BUY IT NOW: Amazon.com * Amazon.ca * Email author about a signed copy
---
CRACKING A TOP 100
Booknet Canada surprised us in mid-January 2018, with its release of its list, "Celebrate the NHL Centennial with the top 100 hockey books." We were pleased to find DON'T CALL ME GOON: Hockey's Greatest Enforcers, Gunslingers, and Bad Boys​ on it. (We're #89 with a bullet!) Essentially, it's a list of the bestselling hockey books over the last five years in Canada. We're okay with that. Looking back, the week that we made the non-fiction bestseller list in Canada in ​The Globe & Mail was a highlight; at the time, we had some good placement in places like Costco. But you know what hockey book came out right after? Yep, the number one book on the list, Orr: My Story by someone named Bobby Orr. Here's a link to the full list.
---
TYING IN HOCKEY TO WRESTLING
It's not a great photo, but yet it is. It's WWE superstar Chris Jericho with his copy of Don't Call Me Goon. Since this was Greg's first non-wrestling book, it's an excellent tie-in. It's also proof that Greg has written about hockey before. See, Chris' real name is Chris Irvine, and while he was born in New York City, he was raised in Winnipeg, and his father was NHL player Ted Irvine. True story, when Chris signed with WWE after wrestling in WCW, it was Greg who called Ted Irvine for a quote — and broke the news of his son's new job.
---
BRIAN MCGRATTAN AND OUR BOOK
We sure got a nice surprise when ​Homes by Avi filmed Brian McGrattan, the of the Calgary Flames, showing off his home alongside his wife. You see, he had his copy of Don't Call Me Goon handy, so it gets on camera, and he talks about it. Worth a watch, even if you aren't house hunting. (Originally aired in January 2014.)