Shocking Stories from the Squared Circle
Edited by Greg Oliver and Jon Waldman
Founded by Greg Oliver and John Powell, SLAM! Wrestling changed the way North America's true favorite pastime was presented on the web. With the backing of Sun Media and Canoe, SLAM! Wrestling brought pure journalism to the muddy waters of the pro wrestling media coverage. Never in the Internet Age had the squared circle been viewed with a keen eye by reporters and analysts who broke down the philosophy of wrestling and feted its legends, while also not being afraid to show the very human side of the locker rooms that are hidden from the plain eye inside the world's biggest arenas. SLAM! Wrestling takes readers on a journey through SLAM! Wrestling's first dozen years and the often all-too real world of professional wrestling. From WWE to the independent leagues that dot North America's landscape, SLAM! Wrestling gives the unique view of the reporter's eye as history unfolds, including interviews with "Stone Cold" Steve Austin, John Cena, "The Rock" Dwayne Johnson, Trish Stratus and many others. Plus, for the first time ever, SLAM! Wrestling's writers take you behind the scenes and share their insights into what made the site stand out as one of the most respected sources for information in all of the Internet wrestling community. From the celebration of WrestleMania XVIII in Toronto, to the tragic death of Owen Hart and many others, SLAM! Wrestling has covered it all and now brings the history of the mat wars straight to your bookshelf.
---
BUY IT NOW: Amazon.com * Amazon.ca * Email author about a signed copy
---
THE BOOK LAUNCH
In November 2009, SLAM! Wrestling: Shocking Stories from the Squared Circle was officially released, but just before that, we had a launch in Winnipeg, as it was the first book for co-editor Jon Waldman … and he has since gone on to do a bunch more! It's the only book launch where there was a cake (wrestling fans know cake and wrestlers can be dangerous!). In the photo above, from left to right, it's SLAM! Wrestling contributors Richard Kamchen (who would write two hockey books with Greg), Greg, Marty Goldstein and Jon Waldman.
---
THE NEW SLAMWRESTLING.NET!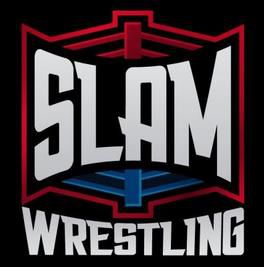 On June 1, 2020, the SlamWrestling.net website went live. Slam Wrestling has been my baby since 1997, as a part of Canoe / Sun Media / Quebecor / Postmedia. In April, I was given notice that my contract was done, and we immediately set out to establish our own presence. It's a work in progress for sure — we have 23 years of archives to deal with still — but it was a rewarding experience. Kudos to my partner in crime with it, John Powell; together, we put the site together in less than three days and launched it. More to come!
My first interview about the move went live on June 5, and it's with Josh Nason's Punch-Out. Check it out here.
---
BULLDOG'S BOOKSHELF
The MerchandiseAndMemories.com website, run by the mysterious Canadian Bulldog, has a very robust book section, and has a review of ​SLAM! Wrestling: Shocking Stories from the Squared Circle​. An excerpt: "This has to be one of the best 'hidden treasures' out there in terms of wrestling books. When the book first came out, I must have not realized what it contained or else I would have bought it immediately. A must have for wrestling fans who want the 'story behind the story.'"