Tales of a Baseball Lifer
By John Gibbons and Greg Oliver
April 2023, ECW Press
Over 11 years and two separate managerial stints with the Toronto Blue Jays, John Gibbons endeared himself to fans with his folksy manner and his frequent battles with umpires: "Here comes Gibby!" Winning helped too. Under Gibbons's management, the Jays made the American League Championship Series in 2015, ending a 22-year playoff drought; then they did it again in 2016. Along the way the team defied odds, won over a nation, and with one flip of a bat produced one of the most iconic moments in MLB history. Now, in his memoir, Gibby shares the story: an on-field career that didn't pan out, but a managing career that did … eventually.
Raised in a military family, he played his first competitive baseball in Newfoundland and Labrador, and, with the family now in San Antonio, Texas, Gibby, a catcher, developed into a first-round draft pick of the New York Mets. While Gibbons only played 18 major league games, he did earn a World Series ring as the 1986 Mets bullpen catcher and knew all the characters from that team, including Doc Gooden, Darryl Strawberry, Lenny Dykstra, and Gary Carter. In 1990, Gibby began his journey as a coach and manager. An old teammate, J.P. Ricciardi, hired him to work with the Jays, and he moved his way up the ranks and into the hearts of baseball fans.
Order Gibby at Amazon.ca or Amazon.com
There's an audio book available too, and, yes, Gibby reads it! Get it at Amazon.ca or Amazon.com
---
A ROCKIN' Q&A
On Sunday, November 12, 2023, fresh off an appearance at the Sport Card Expo Toronto, Gibby was a guest at the West End Phoenix newspaper event space, run by his old pal, Dave Bidini. The Q&A was hosted by the baseball-loving Steve Sladkowski, the guitarist for Canadian punk band Pup. I loved how much research Steve had done, and any author gets off on hearing, "You write in the book …" as a preface to a question.
---
A GREAT INTERVIEW
On Wednesday, April 12, 2023, John Gibbons was the centre of attention at the Toronto Reference Library's Appel Salon, where he did a sit-down interview with Stacey May Fowles. As an author herself, Stacey asks a ton about the book.
---
A CANADIAN BESTSELLER!
Happy Saturday! Gibby: Tales of a Baseball Lifer was launched on Tuesday, April 4, 2023, and made the Toronto Star's Canadian Non-Fiction bestseller list at #7 on Saturday, April 8. Like the Jays, it's bound to climb in the standings right? I made the Globe & Mail's bestseller list years ago, for a single week, with Don't Call Me Goon, in the fall of 2013.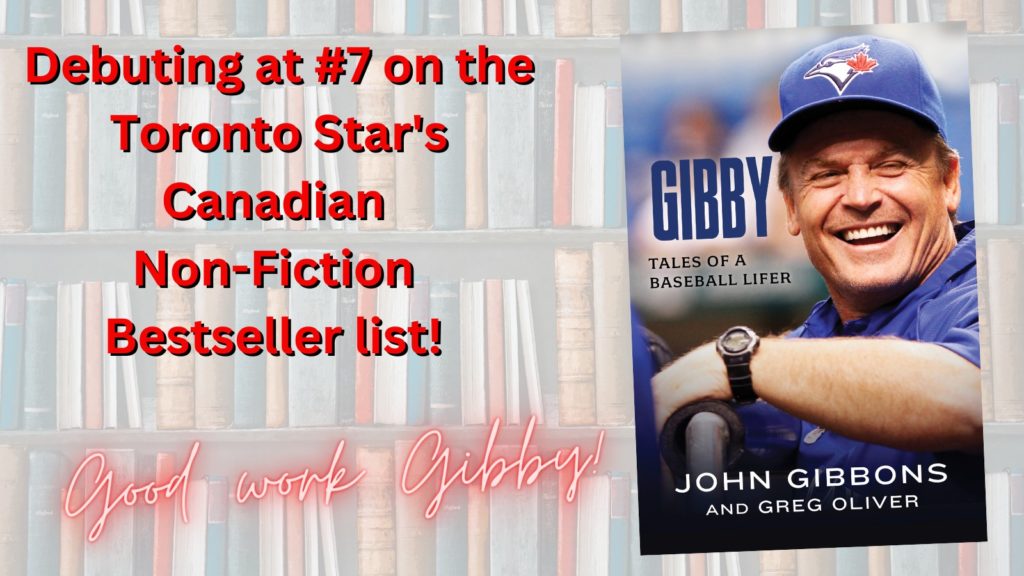 UPDATE: It was #2 on the Canadian non-fiction bestseller list in the Toronto Star for the week ended April 19, 2023.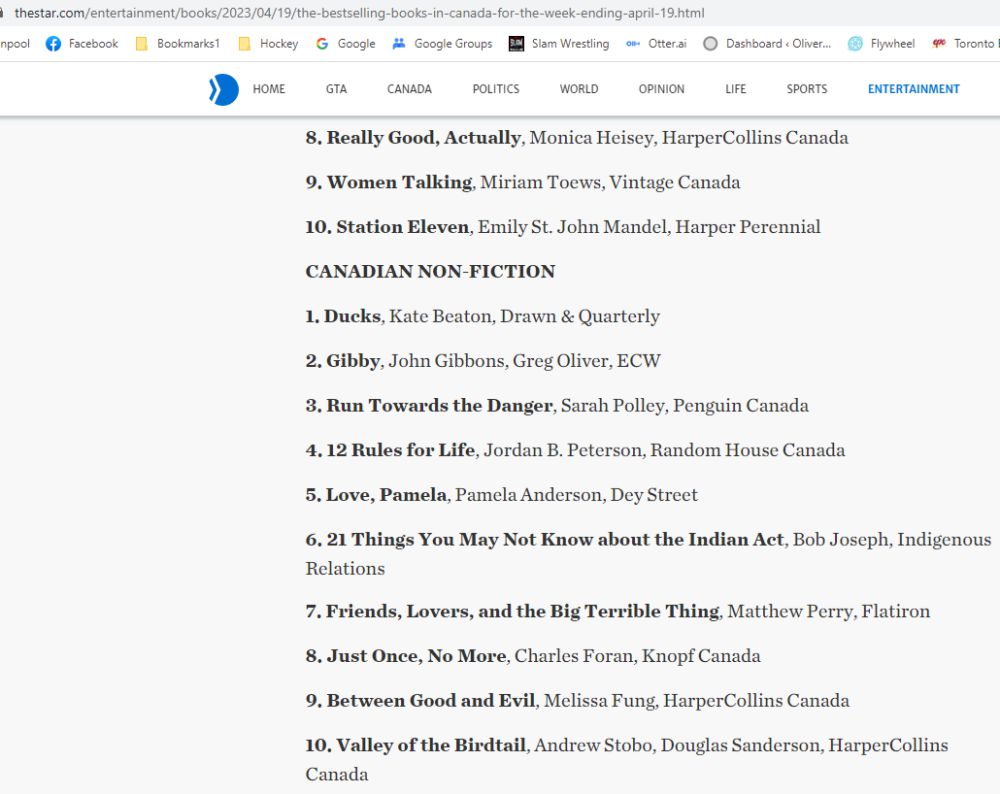 Update: We were still on the Toronto Star's Canadian Non-Fiction bestseller list weeks later, on Saturday, May 20.
---
REVIEWS
Reviews are in, some which came in months before Gibby: Tales of a Baseball Lifer was officially released, others after publication. Some samplings and links:
---
TOO FUNNY NOT TO SHARE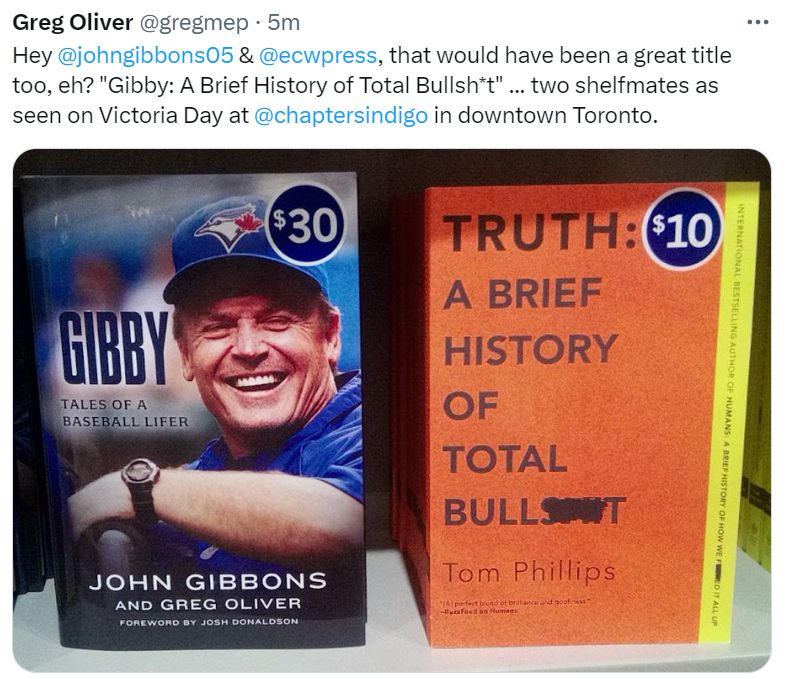 ---
NO. 1 ON AMAZON.CA
I hadn't really been paying attention to sales for Gibby, but on March 21, 2023, I poked into Amazon.ca and there we were #1 in Baseball Biographies. Alas, that was not the case on Amazon.com. But hey, we always knew that the biggest market for the book would be Canada.
---
A CANADIAN BASEBALL NETWORK GUEST COLUMN
Eons ago, back in 2005, I worked at SPORTClassic Books, and we published Bob Elliott's book, The Northern Game: Baseball the Canadian Way. It was a great project to work on, as I edited and laid it out. I'd known Bob from the Toronto Sun though not especially well, since he was on the road all the time … eventually becoming the first Canadian baseball writer honored at the Baseball Hall of Fame. Fast-forward to 2023, and Bob runs the Canadian Baseball Network website, and he tapped me to write a guest column about what it was like working with John Gibbons on Gibby: Tales of a Baseball Lifer. No problem! Check it out here … though it's behind a paywall. … About a year and a half ago, when I told Bob I was working on the book, in his deadpan way, he just asked, "Who is translating Gibby for you?"
---
A COVER! TWO COVERS!
It can be a long, slow process putting a book together. At least when you're writing it, it's in your hands. However, the actual cover is definitely out of the writer and subject's hands, and there's a certain amount of faith in the publisher needed as we don't get to be hands on. Do we make suggestions? Of course. But in the end, it's the designer, working with a variety of people, including the sales team, that put together the finished project.
The cover for Gibby: Tales of a Baseball Lifer was finished first, and the complication was finding the actual owner of the photo that the fine folks at ECW Press found and loved. Eventually, we figured it out, and it's a sweet cover.
With The Woman Who Would Be King: The MADUSA Story, Debrah Miceli knew what she wanted and fought hard to get it. She hired a photographer for a private shoot with all the props, and then submitted her favorites. ECW Press played around a lot with ideas — once the title was decided upon, and that was a process in and of itself.
---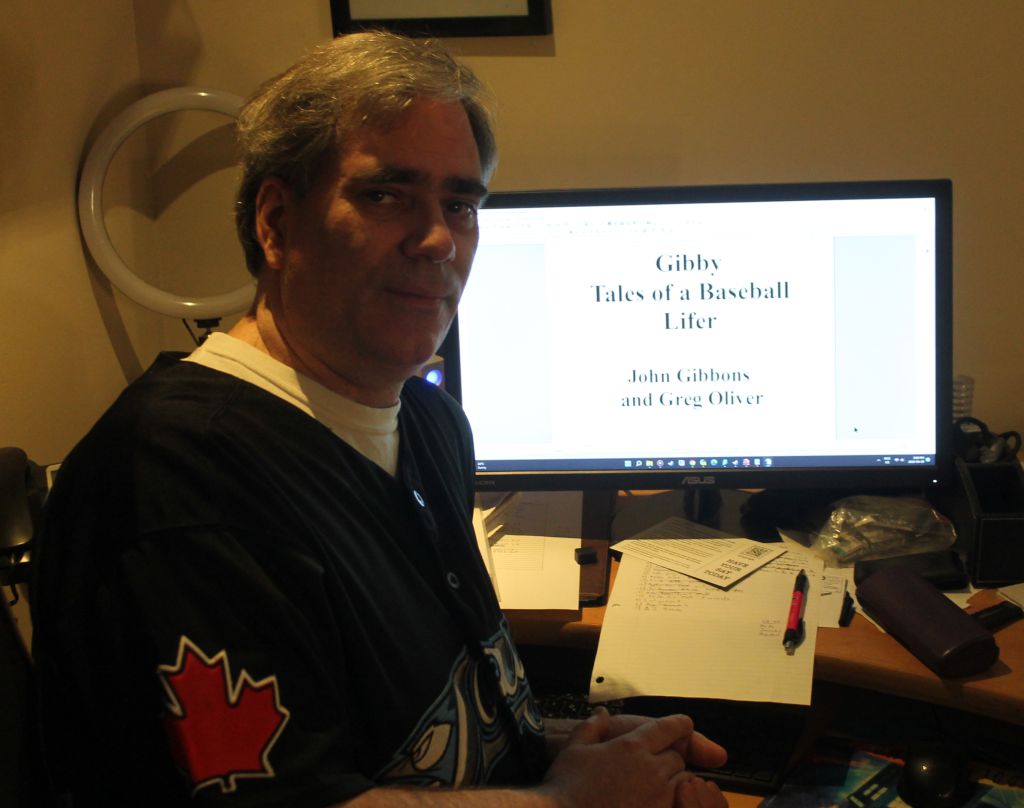 On June 28, 2022, I submitted the manuscript for  Gibby: Tales of a Baseball Lifer, which I wrote with former Toronto Blue Jays manager John Gibbons. It'll be out in the spring of 2023 from ECW Press. Started it in November 2021, finished it today — a tight deadline but John was great to work with.
---