By Quinn and Greg Oliver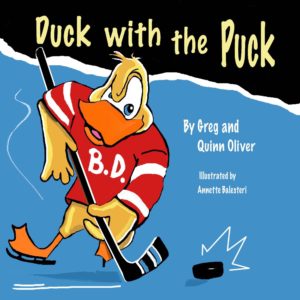 Duck with the Puck is a team effort, with father and son teaming up with illustrator Annette Balesteri for a fun children's story. It's the story of B.D, a duck who loves to play hockey and gets sad every year when spring comes around. It's aimed at family reading time, or kindergarten ages.
---
BUY IT NOW: Amazon.com * Amazon.ca * Email author about a signed copy
---
PRAISE FROM DON CHERRY
"You described how I felt as a young boy. I could hardly wait for the ice to freeze. Great job! You will follow your Dad with books."
PRAISE FROM ROY MCGREGOR
"It's great fun and well done. I love the story and the illustrations. That's exactly how I used to feel each summer when there was no ice in the arena and you had to wait for months to get back playing hockey. But we had lacrosse, which I love pretty much equal to hockey. It's too bad more kids don't play lacrosse in summer. I wish you and your Dad well with the book. I hope it sells well as a Christmas stocking stuffer. And I hope you have a fine winter on the ice."
---
HOCKEYBOOKSREVIEWS.COM
"Dad and son, with the happy stylings of illustrator Annette Balesteri, have come up with a wonderful book. I suspect this is not the last time we will hear from Quinn Oliver, either."
---
SIRIUS XM'S MICK KERN
"And one more for good measure. Eight-year-old hockey fanatic Quinn has penned a short but sweet kid's book about a hockey playing duck who can't get enough of the grand game. A perfect present for the budding young hockey fan in your family."LINKS
Book review @ HockeyBookReviews.com
​Bloor West Villager story:
Seven-year-old shares story of 'Duck with a Puck'
On The War Room on Sirius XM's NHL Network:
---
FAMILY HOCKEY NIGHT AT TPL
On Thursday, November 6, 2014, the Jane/Dundas branch of the Toronto Public Library hosted a Family Hockey Night, which including a reading by young author Quinn Oliver of his book Duck with the Puck. Here he is reading the book!
---
SIRIUS XM NHL NETWORK
On Friday, December 5, young author Quinn Oliver made his first live radio appearance to promote Duck with the Puck.
He appeared on The War Room, with Mick Kern (pictured), which is a part of the Sirius XM NHL Network.
You can see a video of it on YouTube at this link. All we can add to it is "Believe in Bobby Lu."
---
EARLY MORNING TV
On Tuesday, February 17, Greg and Quinn Oliver promoted Duck with the Puck on CITY's Breakfast Television, at a way-too-early time of 6:20 a.m.
Click here to watch the video or check it out below!